Do bodies dream of electromagnetic organs?, by Esther Rodríguez-Barbero. Credit: Esther Rodríguez-Barbero
ARS ELECTRONICA GARDEN BARCELONA EXHIBITION PROGRAM​ME
Dates: from September 8th until September 12th, 2021
Time: 11 a.m. to 8:30 p.m.
Venue: Canòdrom-Digital and Democratic Innovation Centre.Concepción Arenal St., 165. Barcelona
Entrance: free. No prior registration required.
This exhibition program is articulated around a long-term sedimentation process that emerges from the transdisciplinary collaboration of artistic production centers, universities, scientific-technological centers and citizen laboratories, which has resulted in the award of five scholarships for research and artistic production through an open call and a collective selection process. The selected were the projects by Anaisa Franco, Andy Gracie, Estampa, Esther Rodríguez-Barbero and Óscar Martín.
During the production and research residencies, artists intertwine and and situate their respective practices in the intersections of scientific centers (Barcelona Supercomputing Center, Institute of Photonic Sciences and Barcelona Institute of Science and Technology) associated with Hac Te (hub of art, science and technology of Barcelona), together with the centers for the creation of visual arts and dance (Hangar and La Caldera). The processes and some results of these residencies are now presented at Canòdrom, within the official Ars Electronica 2021 program.
Along with the presentation of new works by Anaisa Franco, Estampa, Esther Rodríguez-Barbero and Óscar Martín, the exhibition proposes a dialectical confluence with two works from the BEEP collection: a historical piece by Antoni Abad and a new production by Stefan Tiefengraber. Under the central matter of interdependence and the hybrid condition of our time, this exhibition is an attempt to reckon the processes initiated by the artists, with their specific motivations and themes, disciplinary intersections and lines of research from which to continue the debates about the challenges we face.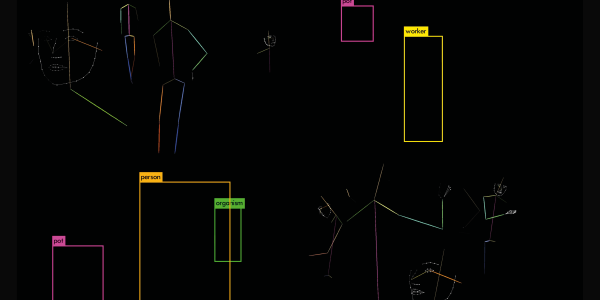 Cambres fosques de la ideologia. Credits: Estampa
Cambres fosques de la ideologia. Estampa. 2021
Cambres fosques de la ideologia is an investigation on the technological mediations that operate behind the images. The aim of this research is to realize an installation in different audiovisual formats. On the one hand, a projection resulting from a camera obscura – an essential optical instrument for science – and the production of images between the 17th and 19th centuries and from which photography derives. On the other hand, a series of digital images in which the operational action of neural networks for object detection, facial detection or body position detection is visible. Both types of images are the product of technological mediation. Each speaks to us of an era and a way of relating to images and to the world.
Marx uses camera obscuras to draw an analogy with ideology. The vocation of transcendence of ideologies is reduced to a trick of illusionism the moment we see the gears that make them work. The same thing happens with images; it is enough to look at the trick to stop believing in their efficacy as a guaranteeing record of reality. Both darkrooms and AI image detection operations are mediations that imprint on images an (ideological) gaze that often tends to disappear from our eyes. This experimental project is aimed at the traces of each type of image by opening its gears. 
Estampa (ES)
Group of filmmakers, computer programmers and researchers who work from an archeological approach to audiovisual technologies. Between experimental cinema and essay, between détournement and critical engineering, their productions appropriate the tools that automate surveillance and exploitation, imagining a critical pedagogy for artificial intelligences. They have exhibited projects selected in different research and production calls.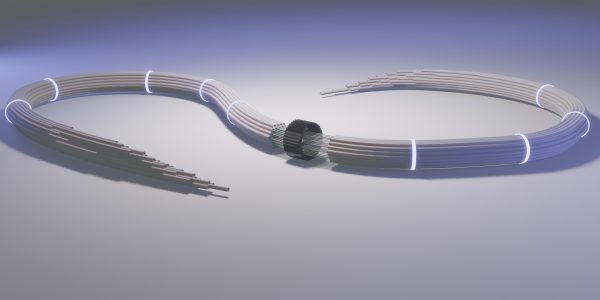 MMM AIR. Credits: Oscar Martin / Desirée Quevedo
MMM [meta music machines]. Oscar Martin a.k.a noish. 2021
Meta Music Machine is a sound and sculptural research project, among other things. It tries to develop and build a non-human sound composer, a machine/sculpture that is inspired, nourished and "learns" from music created over centuries by human culture. Connected to different sources of digital music files from all over the world; it will download, analyze, "learn" and re-synthesize new sound creations from the data and patterns mathematically extracted from that music.
MMM is also an exploration of the creative and aesthetic possibilities offered by new digital technologies, machine learning and the global archive and data ecosystems.
More than an attempt to create a "universalist" music, MMM is understood as a musical generative system that is inspired by and uses human music as its raw material and that will have an experimental character. Understanding experimental music as the search for new territories and aesthetic sound experiences that explore new textures, rhythmic structures and forms of composition.
MMM_AIR is the second branch to be developed for Ars Electronica Garden and will focus on the analysis of melodic and sound frequencies of the input human musical material and explore the creativity of machine learning techniques to create hybrid models. For the sound generation of the sculpture, the possibilities of using automated air compressors and tubes of different lengths where the sound frequencies would resonate will be researched.
Oscar Martin a.k.a noish (ES) is a sound artist and independent researcher. His practice could be understood as a knowledge device where art, science and technology hybridize and converge from an unorthodox and experimental approach. From the sound dimension, his pieces propose to encourage active listening and expand our perception.
His work has been shown at the Reina Sofia Museum and CentroCentro in Madrid, at the Piksel Festival in Norway, Sónar in Barcelona and at the "Festival de la Imagen de Manizales" in Colombia, among others.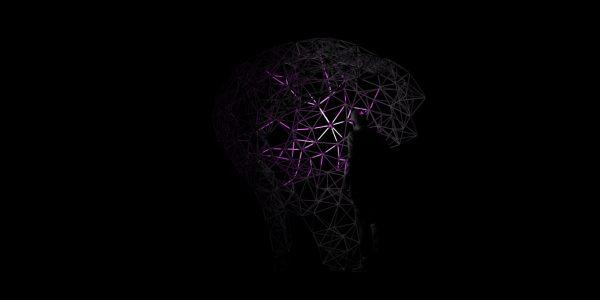 Neuronnection by Anaisa Franco. Credits: In-Generic
Neuronnection. Anaisa Franco. 2021
Neuronnection is an interactive installation that allows people to play and control light reactions using their own thoughts inside a parametric sensitive light sculpture.
The installation creates an interface with the brain, which enable the user to play with their mind. The creation of the shape and interactivity was inspired on how our thoughts are created inside the mind, which comes from the activity of neurotransmitters that generates electrical signals (synapses) in neighboring neurons, that propagates like a wave to thousands of neurons, leading to thought formation.
The user will wear the device Nextmind to interact with the work. Interactivity of the installation occurs when people look to simple geometric patterns as triangles, hexagons, and circles inside the shape, which will propagate movement of lights following the geometrical location of their thoughts.
The main idea o the project is to immerse and mirror humans inside their own thoughts and let them control and play with their own imagination.
Anaisa Franco (BR) is an Artistchitect that creates interfaces that artistically elaborate an "affectivate" experience between people and materials, while creating new forms and relationships simultaneously. Her production synthesizes concepts of psychology integrated into parametric digital fabrication, mixed with technological materials available in the market.
In the last years she has been developing artworks for the public space, museums, medialabs, residencies and commissions internationally.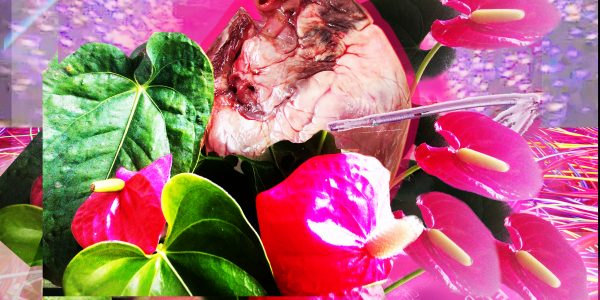 Do bodies dream of electromagnetic organs? Credits: Esther Rodríguez-Barbero
Do bodies dream of electromagnetic organs?. Esther Rodríguez-Barbero. 2021
Do bodies dream of electromagnetic organs? is a performative installation built by movement sensors that reflects on the relationship between body and electromagnetic biomedical implanted devices. It addresses the alterations in terms of perception, self perception, movement and spatial relations that appear after some experiences where state of consciousness is suspended. It proposes a built environment where some of these narratives are addressed by making some alterations on the way we perceive time and space.
The installation works as an extension of these devices some bodies have to carry in daily life and the relations that appear in-between. Bringing some terms into question by researching on bioethics, politics of the body, cyborg and how we relate with otherness and the unknown. It is constructed around the question, what is 'there'?
Esther Rodríguez-Barbero (SP) is a choreographer, performer, architect and researcher in the arts. Her work operates in-between choreography, performance and architecture, using principles from these disciplines to design artistic and social practices. Specialized in contemporary dance together with architectural studies, she achieved a Master in Performing Arts Practice and Visual Culture by the UCLM-Reina Sofía Museum and a postmaster at a.pass (advanced performance & scenography studies) in Brussels.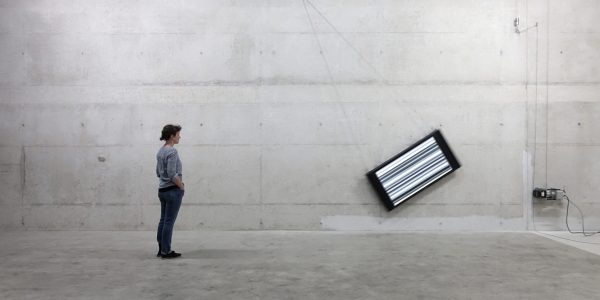 Th-50ph10ek – Wall. Credits: Stefan Tiefengraber
TH-50PH10EK – WALL. Stefan Tiefengraber. 2021
The title of the work refers to the device designation of the used plasma monitor. It is a common device that has been used for many years in exhibition and event contexts. However, this monitor has become obsolete due to recent technological developments. With the installation TH 50PH10EK – WALL, this object is transformed from a carrier of art into a work of art.
A 50-inch plasma monitor is installed as a pendulum, which swings out freely on the wall after being triggered. As soon as the monitor comes to a standstill, it is pulled back into the original position with the help of a cable winch and is made to swing again – triggered by pulling a ripcord, a performative act that cannot take place without human intervention and which involves the exhibition supervisor in the installation. Each cycle ends when the monitor has come to a standstill and no sound and video is produced by its movement. The sound is generated by the amplification of the friction which the back of the monitor is subjected to on the wall. The visualization on the screen is a direct translation of the analogue audio signal into an analogue video signal. Voltage and frequency are represented by a loudspeaker in sound on the one hand and as flickering horizontal white lines on the monitor itself on the other. There is no processing of the signal, for example by a computer or an effects device.
In his works, Tiefengraber plays with the meaning of the function of the devices and objects used, breaks with their predetermined purposes and modifies them. This experimental approach and exploration of old and new technologies and their combination can also be found in the work presented here.
Technical description
Kinetic sound and video installation.
Plasma monitor, cable winch, microphone, amplifier, swing joint, steel cable, speaker.
Stefan Tiefengraber (AT). His work ranges from kinetic sound installations to audio-video noise performances. Tiefengraber experiments with the modification of devices, which are originally manufactured for different purposes. Combined with the perception of the audience, this experimental attempt of exploring old and new materials leads him to new and unpredictable results.
The artist's work has been exhibited at Ars Electronica Festival 2019, Linz, Galerie gerken, Berlin, TodaysArt 2014, Den Haag, New Media Gallery, Vancouver, 16th Media Art Biennale WRO 2015, Wroclaw, Piksel Festival 2016, Bergen, Perspektiven Attersee 2020, Attersee am Attersee, among others.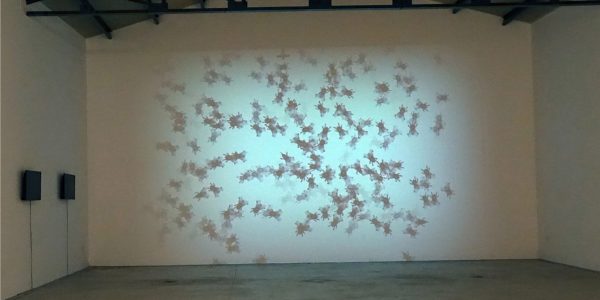 Ego Spanglish by Antoni Abad. Credits: Dados Negros
Ego – Spanglish. Antoni Abad. 1999
Ego is a computer-based projection that uses drawing software that enables the computer to generate swarms of houseflies that buzz and flit around the space in random patterns.​
Every few minutes several dozen flies gradually group themselves to spell out a single English or Spanish word: "I," "Me," "Yo," or some variant of the first-person singular. No sooner has the word become eligible, then the flies disperse and scatter to the far margins of the projection wall before reassembling once more.
This work was presented in 2001 at the New Museum of New York.
Technical description
Random computer animation
Antoni Abad (ES). His work has evolved away from a traditional sculptural practice to the use of new technologies, and in particular the creation of community-based artworks. He moved also from photography to video art, followed by interest in computers Net.art. He uses Internet as a creative & research platform. He expresses the desire for formal experimentation around the concepts of space and time, always present in his work, not exempt lately of certain ironic and critical aspects.
He has presented his work at Fundació Joan Miró, Museo Nacional Centro de Arte Reina Sofía, Museo de Arte Moderno de Buenos Aires, Venice Biennale, P.S.1. – MoMA, Centre d'Art Santa Mònica, MACBA, among others.
He got the Golden Nica within the category of virtual communities in 2006.